Mental Health Disorders, Weight Gain, and Exercise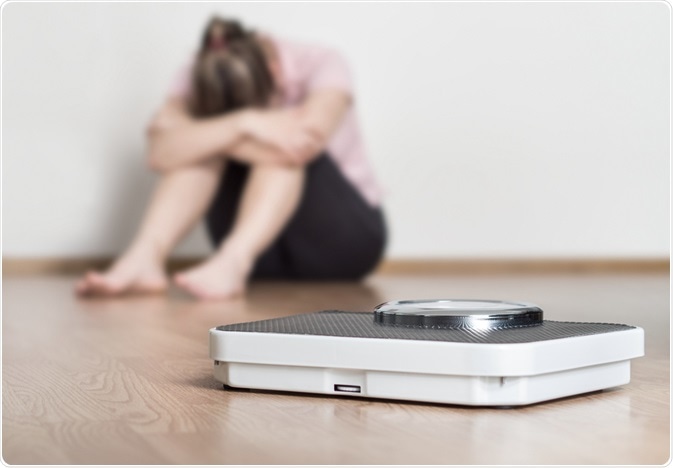 Be the first to rate this article
Studies have shown that people living with serious mental illnesses such as schizophrenia, bipolar disorder, and major depressive disorder have poorer physical health and lower life expectancy when compared with the general population.
Image Credit: Tero Vesalainen / Shutterstock.com
However, research into the links between mental health and weight, and its consequent effect on self-esteem, confidence, and the ability to improve overall health is lacking.
Patients have reported that their mental health problems, side effects of psychiatric medication, lack of support, finances, and stigma all present barriers to improving their health. Often, these elements are linked with one another, further complicating the link between mental health and weight gain.
There are a number of factors that lead to reduced life expectancy in people living with serious mental health problems, but weight gain and obesity are thought to be majorly significant contributors.
The Centers for Disease Control and Prevention (CDC) reported that 43 percent of adults living with depression were obese, with women of any age living with depression being more likely to be obese than both men or women without depression.
There have also been studies looking into the link between gut health and mental health, although no solid link between the two has been made as of yet.
Weight gain as a side effect from antidepressant medication can be a factor in nonadherence as well. Some patients will not take medications if they are concerned about possible weight gain related to medication use.
Abruptly stopping medication can induce significant negative side effects. Furthermore, taking antidepressant medication can sometimes help patients begin talking therapies such as counseling and cognitive behavioral therapy (CBT), which they may find more useful than psychiatric medication.
The dose of antidepressant medication may also influence the effect on weight gain, although there has been no definitive, causative link made between antidepressant use and weight gain.